G-Points
Gritz Reward Points
Gritz Points (G-Points) is our reward system to reward our essential oil lover with more savings!
You earn 1 G-Point for every RM50 you spend on Gritz or by completing simple tasks found on "How do I earn G-Points?" question.
Your G-Points can be use to discount when you buy from Gritz,
1 G-Point = RM 1 discount
Yes, you need to register an account in "My Account" page so that the G-Points can be store in your account.
Click the "Apply Discount" button when you checkout during your purchase.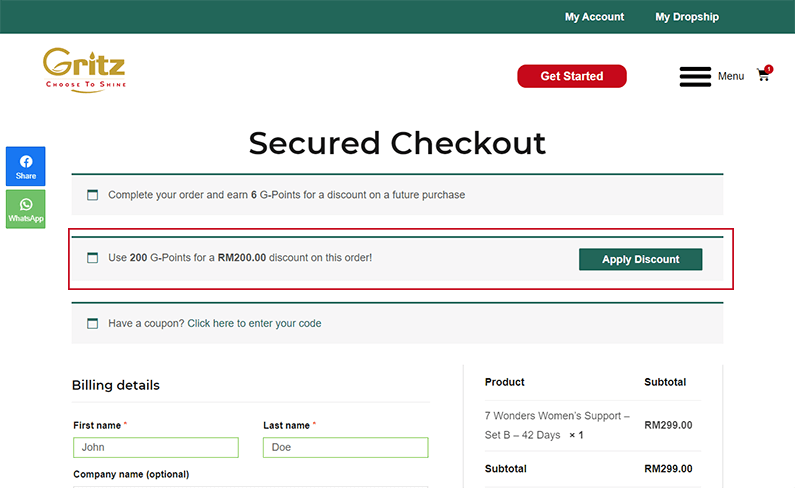 There are few ways you can earn G-Points.
For every RM 50 you spend on buying Gritz essential oils, you get 1 G-Point.
Give an honest review on any of our products and get 15 G-Points. The review section is in the below part of the product page. Points will be given once our team has review and approve your reviews which takes about 1 to 3 working days.
Share Gritz products and your selfie on your Instagram with #gritzMY and receive 15 G-Points. (Make sure your account is public so we can find you.)
Convert the commission you made from dropship in "My Dropship" in "Your Earnings" tab into G-Points.
You will only earn 15 G-Points for every unique product you posted.
For example:
You post 2 times selfie with 7 Wonders. You get 15 G-Points only.
You post 2 times selfie with 7 Wonders and Rich. You get 30 G-Points
Yes. But please note that the G-Points you earn will be based on the final purchase amount after discount.
For example, if your purchase total was RM200 and you applied a promotional code "RM50 OFF", you will only earn the discounted amount, i.e. RM150 (3 G-Points).
There is no expiry date for your G-Points.
Your G-Points will usually appear on "My Account" "G-Points" tab once your purchase or activity is completed.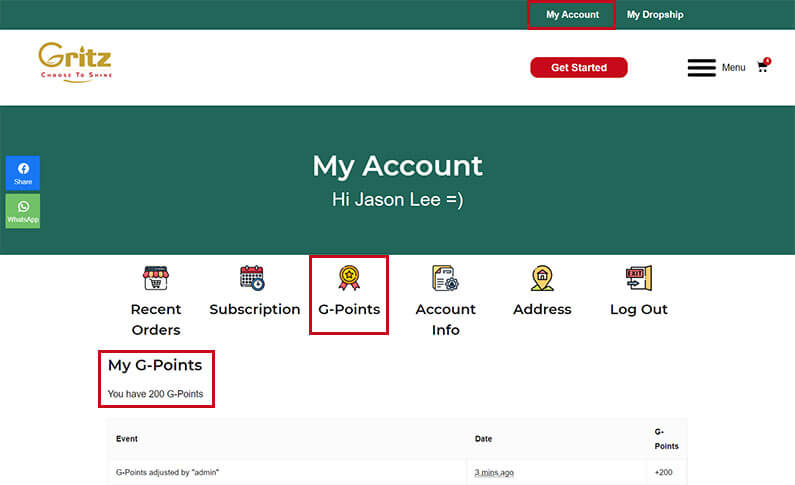 However, Instagram posts might take slightly longer as these posts must be reviewed and approved by our lovely team members.
The process usually takes a minimum of 3 working days. Rest assured we will process your submissions as soon as we can.
Once your items are returned, we will deduct your G-Points according to the price of returned product you paid.
For example: If your purchase total was RM200, you will receive 4 G-Points. However, you returned an item worth RM100. After returning the product, 2 G-Points will be deducted from your account.